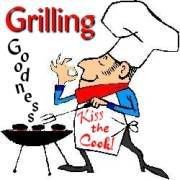 Getting to know each other at
Golden Goodness
:
1. What's one of the best things you've seen lately?
THE PASSION!!!!!! The play our church puts on every year. We had a compacity crowd on opening night!!! During alter call, 100 people came forward to accept Jesus as Savior. We have two performances today!!!
2. Has Spring brought you something you don't like?
A cold :( of all the times, when I need every bit of energy, I'm dragging :(
3. What kind of sandwiches do you like?
fat free ham/cheese on wheat bread (5 points)
4. Do you carry GermX with you at all times?
I'm gonna start, lol.
5. Does each person in your house have their own hamper or do you have a central hamper for everyone?
one for the whole family...actually 3/4 for the whole family
6. How often do you balance your checkbook?
I don't touch the checkbook, hubby does it all. I use my debit card and give him the receipts... I'm spoiled like that :)
7. What's the hardest thing you've done lately?
Went to work last two days, sick as a dog (where did that saying come from...hmmm?)
8. Are you a texter?
Nope, can't stand to text.