#150
And...here we go!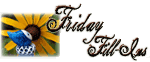 (day late...oops)
1. The last band I saw live was Carrie Underwood was last solo artist but TSO was the last "band".
2. What I look forward to most on Thanksgiving is watching the Macy's Day parade with the kiddos, curled up in our jamies, eating the first batch of Christmas cookies while Daddy starts on the Christmas lights outside. (if you don't celebrate thanksgiving, insert your favorite holiday)
3. My Christmas/holiday shopping is 80% done and I'm making out my black friday list now.
4. Thoughts of sugar plums fill my head.
5. I wish I could wear shorts again.
6. Bagpipes...
7. And as for the weekend, tonight I'm looking forward to scrapbooking and cleaning, tomorrow my plans include date night with hubby and Sunday, I want to go to church and then vegg with the family!